Directorate of Education and social services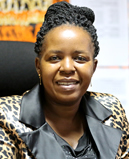 Juliet Namuddu Nambi
Director of Education & SS.
The mandate of the Directorate
The Education and Social Services Directorate (ESD) has the mandate as providing, supporting, guiding coordinating, regulating and promoting quality Education, Sports, Recreation and tourism activities to the community in Kampala City that is geared towards individual and national development.
Strategic Direction
Education and Services Department has defined its strategic direction as fostering a learning and productive community. It focuses on the development of tourism information in the City.
Core Functions of the Education and Social Services Directorate
The Core Functions include the following:
Design Education Management System; Plan and Manage the Pre-primary, Primary, Secondary, Special Needs Schools and Institutions of the City including the provision of the facilities and learning materials.
Plan and conduct periodic supervision and inspections to quality assure the quality of the curriculum, methods of teaching, and classroom and dormitory facilities.
Plan and conduct professional development programs for the teachers and education managers including formal training, refresher, knowledge exchange and work-based programs in the primary, secondary, special needs schools and vocational institutions.
Plan and provide Adult and Children Library services for the Community and Library support to the Schools in the City.
Plan, conduct sensitization and awareness of the education services in the City and manage the provision of alternative education programs for children without access to formal education.
Plan, monitor and supervise the private education providers in the City to ensure conformity with the educational standards.
Plan and monitor the implementation of sports and recreational programs in the City.
Develop, monitor and evaluate the impact of the tourism development strategies on the City.
Source: https://www.kcca.go.ug/education-and-social-services